Calendar of Cancer Awareness Months
Welcome to Choose Hope's Cancer Awareness Months Calendar. At Choose Hope we are dedicated to bringing you all information to help build awareness surrounding the various types of cancer.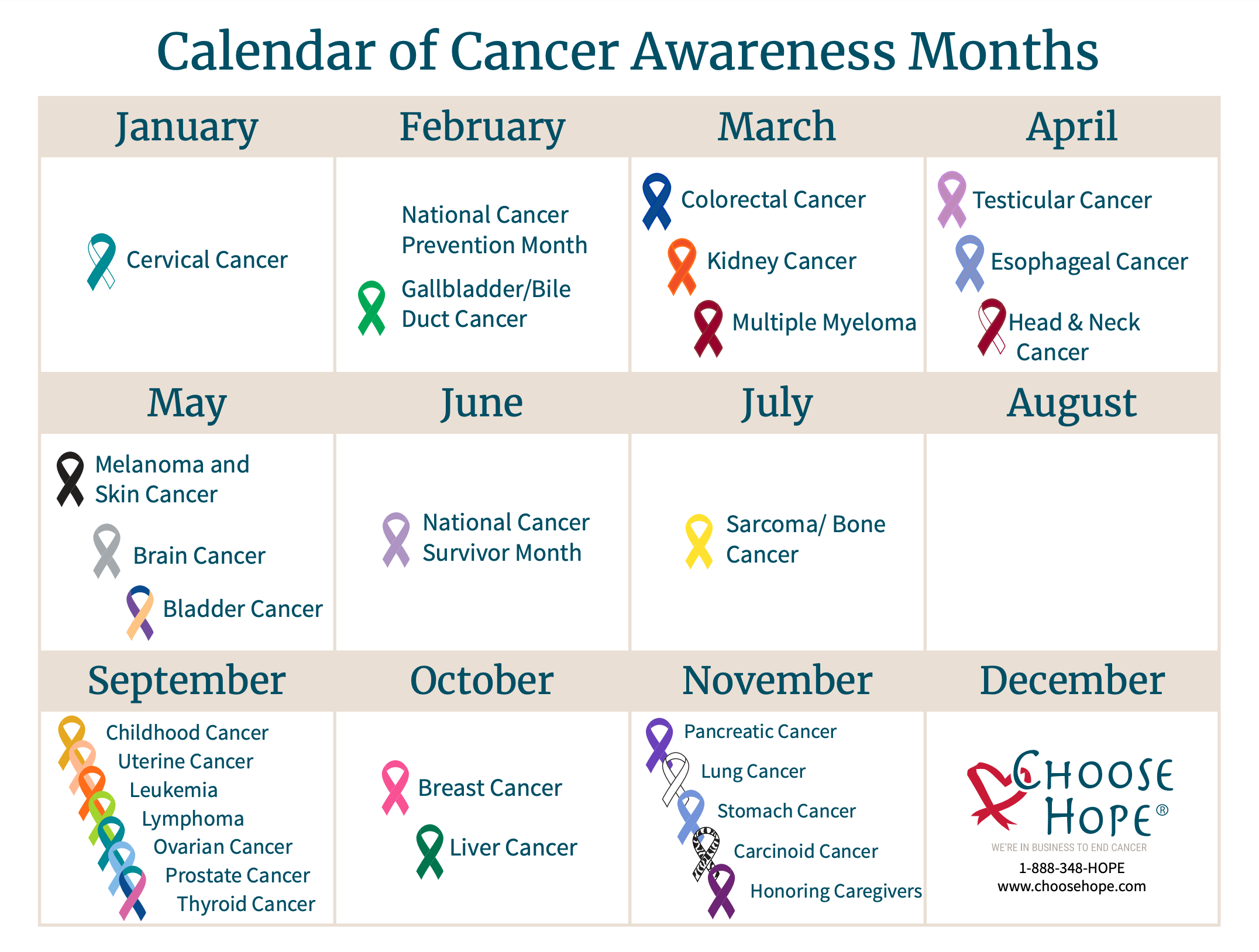 June
June is National Cancer Survivor Month. 
Ribbons
Who determines ribbon colors? Choose Hope does not make up the cancer awareness colors, and contrary to popular belief, neither does the American Cancer Society.
Ribbon colors are determined by nationally recognized, non-profit organizations that provide support, education, and awareness for individual cancers.
Choose Hope Terms of Use
Choose Hope is committed to supporting the cancer community. We want to help! That's why we make our Cancer Awareness Ribbon Colors Chart and our Cancer Awareness Month Calendar available to you. However, we also must pay close attention to how our brand and our materials are used in public. So, before you use these files, please make sure you understand and agree to the following conditions. If you do not agree, do not download the files.
By using our files, you agree to the following:
The file you are using is the copyrighted material of Choose Hope.
Choose Hope and the Choose Hope logo are registered trademarks of Phoenix Reawakening, LLC.
This is a license. It is non-exclusive and revocable. Your use of the file is subject to all of its terms and conditions.
You may not make any changes or modifications to these files.
You may not remove or alter any branding, copyright or trademark notice appearing on the document.
Our trademarks may never be used in any manner likely to cause confusion, disparage or dilute the Choose Hope brand and/or as indicators of source or endorsement for any product or service that is not authorized or supplied by Choose Hope.
You may reproduce (in hard copy only), distribute (for no charge only) and publicaly display this calendar, conditioned upon your compliance with these terms. Choose Hope expressly reserves all other rights.
Choose Hope may revoke this license at any time, in its sole discretion.